MVI – Microsoft Virus Initiative
Microsoft requires certain things from companies developing security products.
If you're serious in selling an AV product on Windows, you need certain APIs which are related to Windows Security Center / Action Center. You can get this API only if you are a member in the Microsoft Virus Initiative (MVI).
The Microsoft Virus Initiative (MVI) helps organizations to get their products working and integrated with Windows.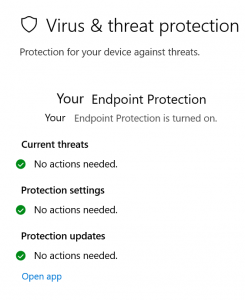 MVI members receive access to Windows APIs and other technologies including IOAV, AMSI and Cloud files. Members also get malware telemetry and samples and invitations to security related events and conferences.
We will work with you to get your company in the Antivirus Vendor page, we will build your product, will get your product accepted by Microsoft and deliver it to your customers.
Here are some steps required:
Help you to get a 3rd party certification of your detection capabilities
Set up the basics to deal with Microsoft
Help you apply correctly to MVI
Walk with you all the way through certification
We have helped more than 10 companies to become members of MVI.
After the admission in MVI:
We work with your team to:

Integrate the API you obtain from Microsoft
Create the tool for interacting with the Action Center according to the Windows version  (using the private API or the ELAM/PPL)
Make it user friendly and test it with additional OSs.
Modify the updater to interact with the Action Center
Modify the licensing manager to interact with the Action Center
Modify the various other product functions to interact with the Action Center
Submit the kit (the result depends on all of the above)
Implement the product landing pages
Implement the incident landing pages

Make the required tests and adapt the product until you pass
Test and adapt the product for the Microsoft guidelines of interacting with Action Center  (all above situations)
Test and adapt the product for usability in regards to Windows 10 (which are special requirements)
We can't do all these steps for you, but will guide and accompany you and your teams in doing them. Some of these steps we can do for you.
Please contact us to get more details.